Oskar lernt Englisch: Where Adventure Meets Education!
Are you keen to embark on a journey that blends language education with unforgettable adventures? Look no further than Oskar lernt Englisch! Since 2004 we have been at the forefront of providing exceptional, action packed English language camps in Germany for children aged 6 to 15. We are on a mission to cultivate confidence and curiosity in young minds, and are always looking for passionate individuals to join us in this exciting endeavor.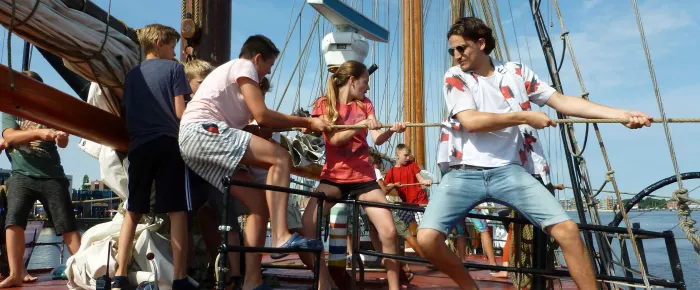 Our Unique Approach: Education Beyond the Classroom
At Oskar lernt Englisch, we believe that learning extends far beyond the confines of a traditional classroom. Our camps fuse structured English lessons with vibrant, informal settings, ensuring that education is engaging, immersive, and empowering.
We understand that each child possesses an innate curiosity to explore the world around them, and we're here to nurture that spirit.
Adventure Awaits: What Sets Us Apart
Are you tired of the conventional 9-to-5 routine? Are you yearning for a role that challenges you, allows you to unleash your creativity, and provides you with the opportunity to create lasting memories?
Joining our team means stepping into a world where you'll lead campers in climbing through treetops, riding the waves of the North Sea, and playing exciting games all while communicating in English. We don't just teach English; we foster friendships and inspire young minds.
Why Choose Oskar lernt Englisch: The Perks
We value our team members and ensure that your dedication and hard work are rewarded. When you join us, you'll enjoy:

· Full coverage of travel, room, and board during overnight camps
· Travel stipend and delicious lunches during day camps
· Competitive compensation, including regular pay increases based on your camp participation
· Comprehensive paid training to equip you with the skills you need to excel
· Engaging director training that empowers you to lead with confidence
· Paid first aid course to enhance camper safety
· Staff pizza and beer get-togethers to unwind and connect
· Invitations to bi-annual feedback sessions, giving you a voice in shaping our programs
· The chance to explore Germany's captivating history and culture in unique locations

Your Adventure Begins Here
If you are an energetic, empathetic individual who is passionate about education and adventure, regardless of where you're from, Oskar lernt Englisch is the perfect place for you to thrive!
Join us and be a part of an enthusiastic team that's dedicated to creating a transformative experience for campers and staff alike.
Apply Now and Let the Adventure Begin!
Don't miss out on this exciting opportunity to be a catalyst for learning and growth. Start your journey with Oskar lernt Englisch today by applying. Unleash your potential, inspire young minds, and create memories that will last a lifetime. Your adventure awaits!
Have more questions? Check out our FAQ below!
Counselors & Directors at Oskar
Felicia
from Canada
Aaron
from the USA
Vienna
from the USA
Gavin
from the UK
Shubham
from India
FAQ
What are the main responsibilities of a camp counselor?

As a camp counselor with us, you will step into a dynamic role that encapsulates the spirit of seasonal adventure and educational enrichment. During school holidays, you'll become an integral part of our vibrant camp community, fostering an environment whre learning and fun intertwine seamlessly. Mornings will find you in the role of a dedicated English educator, imparting language skills trough engaging lessons that captivate young minds.

As the day unfolds, you'll transition to the heart of the camp experience, overseeing children during mealtimes with care and attentiveness. You will help foster a sense of belonging and cmaraderie. The afternoons will be alive with activity as you step into various roles - from a spirited workshop conductor to a sports enthusiast, an artist igniting creativity, or a dance instructor bringing rythm to life.

However, it's not just about the tasks; its about the energy you infuse into every moment. Your electric enthusiasm will be the catalyst that fuels the camp's vibrant atmosphere, inspring campers and fellow counselors alike. Your commitment to creating a memorable experience, marked by learning, laughter, and growth, will be the cornerstone of our camp's success. Join usl, and let your passion shine through every adventure we embark upon together!
What documentation will I need as a camp counselor or director?

You will need the following documents to get started on your first camp with Oskar lernt Englisch:

A signed Framework Contract (Rahmenvertrag), will be provided once you've accepted our job offer.

A freelance tax number (different from your tax identification number)

A copy of an extended police check, referred to as "Erweitertes Führungszeugnis" in German, to ensure a safe and secure environment for everyone (we will pay your administrative fee if we hire you)

A valid First Aid Certificate from an accredited first aid course which ensures that you are prepared to handle any situation that may arise. (We will also pay the full cost of your certificate, exe exam not included, once you've been hired)
Curious about the hiring process? Here's how it works!

Convinced? Ready to take the next step? Share your resume and a brief letter with us - a chance for us to get to know you better. (It doesn't need to be a formal "cover letter", just a glimpse into who you are and what you enjoy).

Rest assured, your application won't vanish into a digital void. Our team of very real people is eagerly waiting to read each and every application with genuine interest and excitement.

Stay tuned for the exciting part: an email (we know!) from us, extending an invitation to join us for an interview. You can expect to be invited either to the office for human-to-human conversation or you'll receive an invitation to an online meeting room, where you'll still meet another human, just through a screen. ;)

Make sure to read the instructions, and watch the informative video we send you with your confirmation email! Once reviewed, you can choose the date and time you'd like to meet with us via our appointment calendar.

If we sense that you're a perfect fit for our camp community, you'll be moving along to the next phase - training! This an opportunity to hone your skills, connect with like-minded individuals, and embark on an adventure that promises growth, learning, and memories to treasure.

What qualifications or experience are you looking for in a camp counselor?

We are on the lookout for vibrant individuals who are passionate about making a difference as camp counselors. Here's what we're looking for:

A strong command of the English language (C1/C2 level)

Experience in teaching or working with children

Bonus points for training or experience in art, dance, or film (see our specialty roles for more info)

Willingness and availability to participate in training

Enthusiasm for attending a first aid course if you don't already have a certificate

A squeaky clean police record, and an extended police check for working with children

A valid work permit for freelance work in Germany (if needed)

Being at least 18 years of age or older
What is the camp's overall mission and philosophy?

At Oskar lernt Englisch, our mission and values are at the core of everything we do. We prioritize the interests of the children above all else, recognizing the responsibility parents entrust us with. every decision we make is centered around the well-being of the children, and we strive to be attentive, responsive, and accommodating to their needs.

In our collaborative environment, we firmly believe in the power of teamwork. We appreciate and respect the contributions of each team member, fostering open communication, honesty, empathy, and trust. Together, we embrace challenges and find creative solutions, overcoming obstacles as a united front.

Our dedication extends to our caregivers and educators who play a pivotal role in nurturing and teaching children. We provide comprehensive support to our caregivers and educators, ensuring a nurturing and reliable work relationship accompanied by fair compensation.

Diversity is a source of strength for us. We value every individual, celebrating diverse abilities, experiences, and perspectives. Our differences enrich us, offering a wellspring of collective strength. Learning from each other and embracing challenges, we grow individually and collectively, propelling Oskar lernt Englisch forward.

Driven by our aspiration for excellence, we continuously refine our products, processes, and services as a team. Our shared commitment enables us to achieve our goals while fostering an atmosphere of transparency, trust, and shared responsibility.
What is the duration of the camp counselor position?

The duration of the camp counselor position is flexible and tailored to your availability. We operate on a first-come, first-served basis, ensuring a fair allocation of spots. Share your availability with us via our seasonal availability form, and we'll extend offers for the dates you're open if there are openings at camp. Your commitment can span from 1 to 4 consecutive weeks (more upon agreement), with a typical arrangement of not working more than 2 weeks consecutively, followed by a week-long break before your next camp. For added flexibility, we also offer standby contracts. By reserving your availability for specific date ranges, you could be called in with a 24-hour notice if a spot becomes available or if your assistance is needed due to unforeseen circumstances. While at camp, you'll receive compensation based on the number of days worked, following our payscale. Even if you're on standby and don't end up at camp, you'll receive a fixed fee for holding your time open. This approach allows us to accommodate your availability while ensuring a seamless camp experience for everyone involved.
What is a typical day like for a camp counselor?

Step into a day as a camp counselor! The day begins with a cheerful wake-up call at 7:30, followed by a hearty breakfast at 8:00. At 9:00, the morning gathers momentum with a lively Morning Meeting to set the tone for the day before heading into our engaging English Part 1 (grammar lesson). A well-deserved break at 10:30 offers time to recharge, and prepare for the immersive English Part 2 (English project) at 10:45.

Lunch and a brief break at 12:15 provide the perfect interlude before the afternoon comes alive with dynamic workshops and sports activities starting at 14:00. Another refreshing pause at 15:30 precedes the continuation of workshops and sports at 16:00, fostering creativity and camaraderie.

As evening descends, the camp community gathers for a wholesome dinner at 18:00. The magic of the night unfolds with an engaging Evening Program at 20:00, filling the air with laughter and excitement. A final rendezvous of the day, bedtime at 21:30, offers moments of reflection and connection and maybe a few giggles and ghost stories.

As the clock strikes 22:00, it's lights out, marking the close of another fulfilling day at camp. This structured yet spirited schedule ensures that campers and counselors alike partake in a journey of growth, learning, and treasured memories.
What training will be provided?

Our comprehensive training program is designed to equip you with the skills, knowledge, and confidence needed to 4excel as a camp counselor. With a rich array of topics, you'll delve into various aspects of camp life and youth engagement. Starting with essential information, such as contact details and pre-camp preparations, you'll smoothly transition into the practicalities of packing and traveling to camp.

The core of our training lies in the intricacies of our camp program. from understanding daily schedules and facilitating arrivals and departures to mastering the breakdown of a typical day's activities, you'll gain a holistic grasp of the camper experience. English classes, sports, workshops, third parties, activities, and evening programs are all part of the dynamic curriculum we offer.

We also delve into specialist roles on camp, exploring how each individual contributes uniquely to the camp's success. Our training extends beyond activities, covering features such as getting paid, and ensuring you're well-informed and comfortable in all aspects.

To ensure a harmonious camp environment, we address conflict, rules, and the law. You'll learn about Oskar Camp Rules, addressing rule-breaking behavior, managing classrooms, and adhering to the law of youth supervision. Our commitment to inclusivity is highlighted through discussions on discrimination, racism, and bullying.

An extensive appendix provides supplementary resources, including placement interviews (for English teaching levels), curriculum insights, example lesson plans, and project ideas. Throughout your training, you'll gain access to practical tools, games, and examples that will enhance your abilities as a camp counselor. By the end of our training, you'll be ready to embark on an exciting journey, armed with the knowledge and skills to create lasting memories at camp.
What are the camper age groups?

At Oskar lernt Englisch, our camp caters to a diverse range of young learners, welcoming children aged 6 to 16. This spectrum allow sus to create an inclusive and engaging environment where campers of varying ages come together to learn, explore, and forge meaningful connections. Our carefully tailored activities and curriculum ensure that every child, regardless of their age, finds inspiration and growth during their time with us.
How does the camp handle camper behavior and discipline?

At Oskar lernt Englisch, we introduce the children to a set of 12 rules that they must adhere to throughout the duration of the camp. We also have clear steps to handle rule-breaking behavior:

Address the Behavior: If a child breaks a rule, stop the behavior and let them know it's not allowed.

Notify the Camp Director: You can either handle the situation with an appropriate consequence (depending on the severity of the rule break) or you will inform your camp director, who will address it in German. Always keep your team and director informed.

You will learn in training to differentiate when to act yourself and when to escalate the situation to your director or our office team:

For small issues like misbehaving in class, lateness, or minor disrespect, you can handle the situation.

For serious violations like having prohibited items or dangerous behavior, involve the director who may give an official warning.

Counselors play a crucial role in keeping camp safe and enjoyable for everyone. This involves:

Ensuring the children are safe from harm.

Administering first aid when needed.

Preventing bullying, discrimination, and disrespectful behavior.

Guiding children on good conduct.

Respect third-party rules, camp property, and camp rules.

Following procedures for children leaving camp premises.

We teach our staff to focus on:

Using fair and positive consequences

Modeling good behavior

Encouraging respect for diversity and preventing discriminatory behavior

Addressing bullying, racism, and rule violations promptly

Ensuring the physical and emotional well-being of campers

Following camp and location rules

Maintaining professional behavior



By adhering to these guidelines, we create a safe, inclusive, and respectful camp environment for all.

Whats the staff-to-camper ratio?

The staff-to-camper ratio is 1 adult for every 9 children.
What's the living arrangement for counselors?

We strive to provide comfortable living arrangements for our staff. While we can't always guarantee individual quarters, you will usually share a room and have access to a private bathroom in a well-appointed youth hostel, sharing the space with another dedicated counselor. We understand the importance of providing inclusive accommodations, and as such, we initially place counselors into their respective rooms based on gender. However, we are fully aware that not everyone identifies within a binary system. we actively encourage an environment of respect and inclusivity, allowing room swaps if all parties involved are in agreement. In our commitment to progress, we are actively working on updating all forms and documentation to incorporate more inclusive language, ensuring that everyone feels comfortable and valued within our community. Your well-being and comfort are our priorities, and we're dedicated to making sure you have a positive experience while working with us.
What's the camp's COVID-19 safety protocol?

While we understand that there are no longer any covid-19 restrictions in place, it is important to address potential illness scenarios and avoid the spreading of infection. We continue to offer testing kits, and in the unfortunate event of a positive result, we have measure sin place. For individuals who test positive, we will ensure they have their own private room. In the case of a child getting sick, we promptly notify parents for immediate pickup. For a counselor, we assess whether arranging transportation home is feasible or providing a separate room. Throughout this process, your team and the office will maintain regular check-ins, and we'll make sure you receive meals and necessary support.
What recreational activities and team-building opportunities are available for staff?

We offer casual staff pizza and beer get-togethers, where you can connect and share your camp experiences with other camp counselors and directors.

The chance to enhance your skills through additional teacher training sessions, empowering you with valuable knowledge for both your role and personal growth.

Join in on the festivities at our memorable staff end-of-season parties, designed to celebrate a season of achievements and building strong bonds!

We are always happy for more suggestions and continuously working on finding more ways to enrich your experience and support your development at Oskar lernt Englisch!
What is the camp's approach to diversity and inclusion?

We understand that each individual's identity is multifaceted and that various aspects of a person's identity interact, creating each of our unique experiences. Our commitment is to create an environment that embraces and celebrates these intersections, recognizing that discrimination and exclusion affect individuals differently based on their various identities and backgrounds.

Our goal is to create a safe and welcoming space where campers and staff can express their identities authentically without fear of judgment or discrimination. We work to educate our camp community about the importance of respecting and valuing diverse identities and experiences.

Through our programming and activities, we aim to provide opportunities for camps and staff to learn about different cultures, backgrounds, and orientations where appropriate. This includes workshops, discussions, and activities in counselor and director training that promote empathy, understanding, and allyship. we actively seek out individuals to work with who are comfortable having these kinds of conversations and are eager to create an inclusive environment with us!
In addition, we regularly review and update our policies and practices to ensure they align with our commitment to diversity and inclusion. This includes using inclusive language, offering resources and support for campers and staff who may need it, and continuing to work on providing gender-neutral facilities when possible. we also encourage feedback from our camp community to continuously improve our approach and make sure everyone feels valued and heard.

Ultimately, our camp's approach to diversity and inclusion is about creating a space where everyone can be their authentic selves, learn from one another, and contribute to a supportive community that celebrates the richness of human diversity.
Are there opportunities for advancement within the camp organization?

Absolutely! Within our camp organization, there are opportunities for advancement. we operate on a payscale structure that rewards counselors for their dedication and experience. As you gain more experience and participate in additional camps, you'll see an increase in your compensation, reflecting your commitment and expertise. And if you go above and beyond during your camps, your peers send in feedback about your stellar performance, and you might be rewarded with our Above and Beyond end-of-year bonus!

Furthermore, if you're looking to take on more leadership responsibilities, there's a pathway for advancement to higher positions. You can progress from a counselor role to come a Co-Director or even a Director. These roles involve more strategic planning, decision-making, and team management, providing you with valuable leadership experience and the chance to shape the camp experience for both campers and staff.

Additionally, you will typically be the first to know if we're looking to fill a full-time position in our HQ!

We believe in recognizing and nurturing talent from within our organization, and we're excited to provide opportunities for growth and development for those dedicated to making a positive impact in our camp community.
I want to apply for a specialist role (Film/Theater/Dance etc.), how do I do that?

If you're interested in a specialized role within fields like Film, theater, Dance, Music, or Art, simply provide us with your relevant experience, educational background, certificates, or any additional information that demonstrates your training or expertise in the desired area. Sharing samples of your work is also greatly appreciated and will expedite your application process. During your interview, make sure to express your enthusiasm for the specific role, and we'll be more than happy to guide you through the subsequent stages.